Nationally recognized automotive artists will exhibit their work in the art pavilion. From original pieces to prints and posters, artists also have shown photography and sculpture.
The pavilion is open during Saturday evening's Preview Party and Sunday from 10:30 to 4 pm during the Concours.

All of the work is available for purchase.
The 2023 featured artist is Daniel Brown.
Daniel Brown, known for his loose and painterly technique, has been exhibiting his work since 2003. Classically trained in painting and figure drawing from Goshen College in Indiana and Leslely University in Boston, Brown combines the craft of automotive representation with the expressive qualities of traditional oil painting.
Native to the Midwest, and currently representing the Dayton Ohio area, Daniel Brown often looks to the everyday for inspiration when creating his unique artwork.
His series of images from Craigslist ads was featured on Dayton's Think TV local Emmy award winning, "The Art Show". Daniel exhibits at many Concours and custom car events around the country.
You can see Daniel's other work online at www.autoexpressionist.com.
Information
Hours:
Open during the Saturday night Preview Party and during the Concours from 10:30 to 4 pm.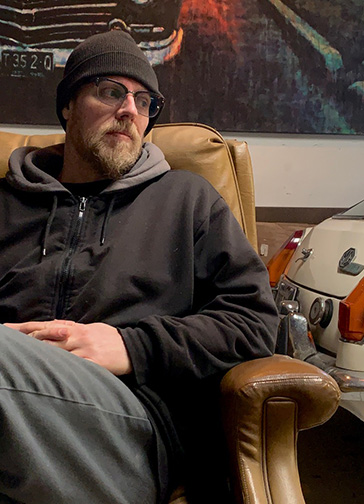 Concours Artists
Daniel Brown - Featured Artist
Craig and Pam Booth, Gardiner, NY
Bob Colaizzi, Dayton, OH
Larry Goodridge, Lakeside Park, KY
Steve Macy, Des Plaines, IL
Steve Wohler, Tipp City, OH
Mary Watt Yeadon, Bellflower, IL